The early 2000s saw interest rise in streetcar systems for American cities and United Streetcar was formed in 2005 to satisfy that interest. City planners saw more people moving downtown and ditching their cars but still needing transportation. The green movement was on the rise, as were gas prices, and city planners as well as government officials hoped streetcars were the answer to these issues.
With grant money flowing from Washington DC, cities took a look at building a new streetcar system or expanding their current systems. Portland, Oregon applied for and won a federal grant for a new streetcar system, to be called Portland Streetcar. So in 2007 with a contract in hand from the City of Portland United Streetcar became the only US based manufacturer of new, modern streetcars.

Based in the Clackamas, Oregon area (southeast of Portland) it delivered the first of its new production run to Portland in 2009. In order to win the Portland contract United Streetcar had to match the design specs of the cars already in use by the Portland Streetcar System. Those cars were designed by the Czech company Skoda, so the parent of United Streetcar, Oregon Iron Works, signed a "technology transfer agreement" with Skoda.
This agreement with Skoda allowed United Streetcar to build essentially look-alike, and act-alike, Skoda cars, but with American parts and labor. The original contract with Portland included a Skoda-built propulsion and control system. However problems developed immediately and so the system was changed out one designed by Rockwell Automation.
With the Rockwell Automation system on board, United Streetcar now had its first product in final form: the United Streetcar Model 100. With another modification of the propulsion and control system (to Elin EBG Traction) Portland ordered 6 more Model 100 streetcars for use on the Eastside project.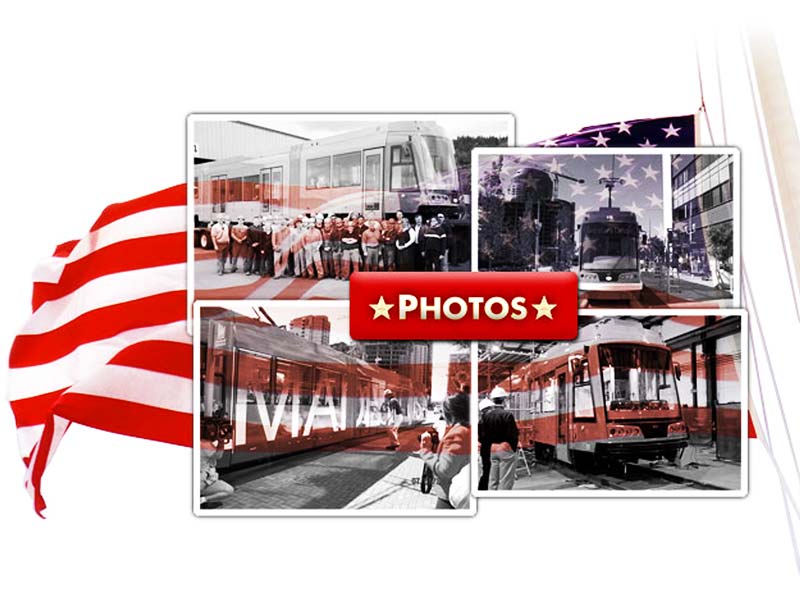 The City of Tucson announced its new Sun Link system would use United Streetcar's Model 200 car. A total of 8 were ordered and all arrived in time for the 2014 opening of the system. The main difference between the Model 100 and Model 200 is a more powerful air conditioning system. That's probably a welcome difference to the riders of Tucson.
Washington DC's system ordered 3 Model 100 streetcars for the H Street – Benning Road line then under construction. All three cars were delivered prior to the opening of the line.
In just a few short years United Streetcar had built on success after success, at least it looked that way. However reality was that competition from larger and more technologically advanced overseas manufacturers made winning contracts difficult – and then with the entrance of another American manufacturer into market, United Streetcar's fate was sealed.
Brookville Equipment Corporation, a large and well established manufacturer of speciality locomotives and cars for the railroad industry entered the streetcar market with a 2013 delivery to the City of Dallas. Brookville also introduced new technology to the market. United Streetcar delivered its last streetcar, a Model 100, to Portland in 2014.
In December of 2014 the company mothballed its facilities and in 2015 the company was dissolved. When United Streetcar ended production it has a Model 300 on the drawing board. Parent Oregon Iron Works has since been acquired by Vigor Industrial. Vigor with a focus on ships building and repair has taken Oregon Iron Works back to its roots. The former United Streetcar facility is now used for boat construction and repair.